Tiny Moving Parts, Worlds Greatest Dad, and Scream Out Loud Coming To The Handlebar!
Tiny Moving Parts and Worlds Greatest Dad are coming and the Pensacola, FL screamo sensation Scream Out Loud are emerging like they've been in a secret underground jamming society for the past few years!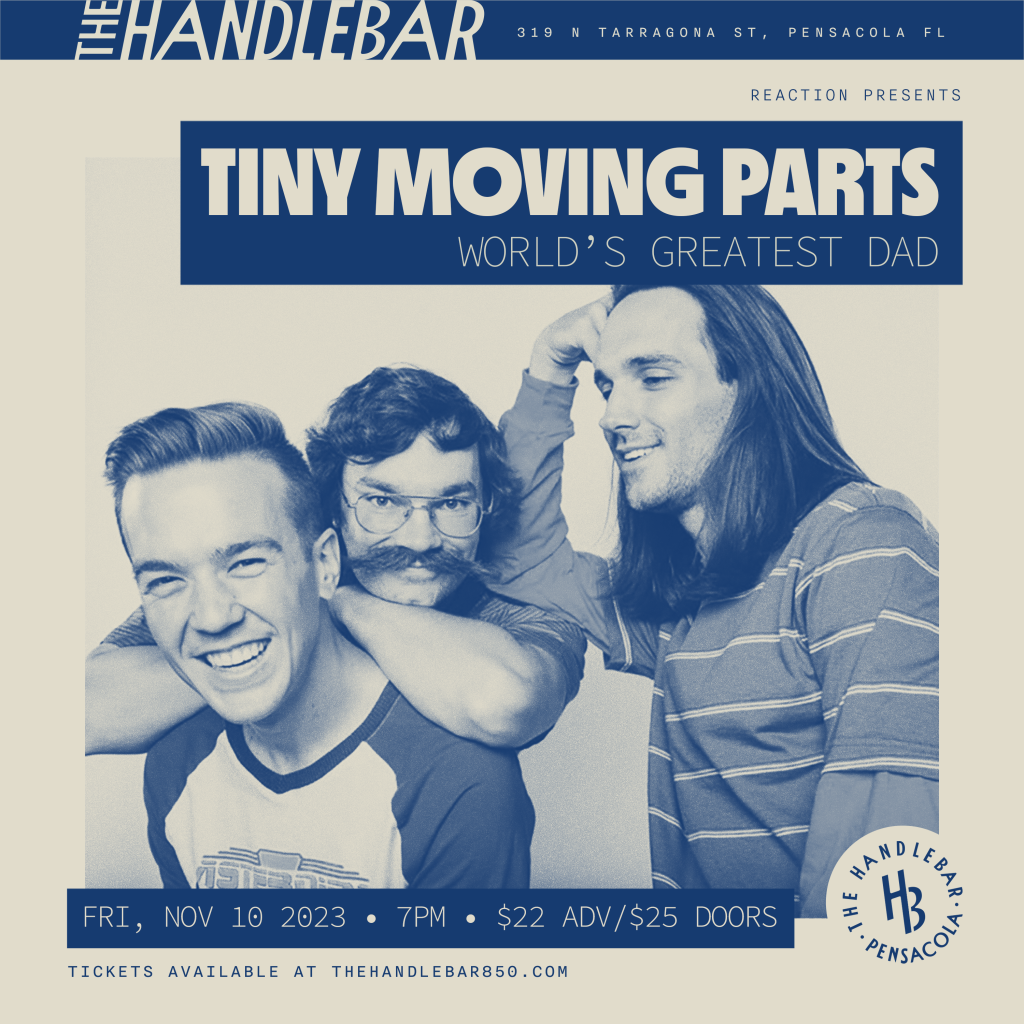 If you're craving an electrifying evening filled with heart-pounding emo and screamo tunes, mark your calendars for November 10th. The Handlebar, a hub for our gulf coast music lovers, is set to host a lineup that'll make your eardrums dance: Tiny Moving Parts, Worlds Greatest Dad, and the Pensacola, FL screamo sensation Scream Out Loud is coming out of Keith's shed to make an appearance not seen on stage for a few years.
Tiny Moving Parts
In the sprawling landscape of contemporary emo music, few bands have managed to carve out a niche as distinct and captivating as Tiny Moving Parts. Hailing from the small town of Benson, Minnesota, this trio has taken the emo scene by storm with their infectious blend of heartfelt lyricism and inspiring musicianship. Picture this: two brothers, Matthew(bass/vocals) and William(drums) Chevalier, plus their cousin Dylan Mattheisen(guitar/vocals), combining forces to create a musical brew that's equal parts heartache and guitar wizardry.
Since their formation in 2008, Tiny Moving Parts have been on a mission to remind the world that emotions can be compacted into neat little sonic packages. It's like they took the essence of your most dramatic diary entries, sprinkled it with math rock fairy dust, and turned it into an unforgettable sound. Their music seamlessly navigates the treacherous waters of emo, math rock, and pop-punk, like a musical GPS that's set to 'rollercoaster mode.' And let's not forget the mind-boggling transitions from soft, soul-searching verses to chorus explosions that hit you like a surprise water balloon to the face – in a good way, of course.
With Dylan's vocals that'll make you question if someone's cutting onions nearby, guitar work that's practically a workout for your fingers, and a rhythm section tighter than a jar of pickles, Tiny Moving Parts are the triple threat you didn't know you needed. Whether you're navigating the maze of human relationships, the confounding puzzle of existence, or just trying to find matching socks, these guys have a song for it. So buckle up, folks, because Tiny Moving Parts are here to shrink your emotions and expand your musical horizons – all in one mind-blowing package.
Worlds Greatest Dad
Get ready to dive into a pool of indie-emo goodness with Worlds Greatest Dad. Based out of Atlanta, Georgia, this band brings a fresh twist to the emo genre, infusing it with infectious melodies and relatable lyricism of self-discovery and the exploration of personal feelings. Their music resonates with anyone who's ever experienced the ups and downs of life, love, and growing up. With their charismatic stage presence and knack for storytelling, Worlds Greatest Dad is sure to leave an indelible mark on The Handlebar stage.
Scream Out Loud
Hailing from our very own Pensacola, FL music scene, Scream Out Loud is back from a multi-year hiatus. These local legends are here to prove that screaming your lungs out can be therapeutic. With riffs that hit harder than a hurricane and screams that could wake the kraken, they're the perfect antidote to those times when you just want to, well, scream out loud.
Scream Out Loud, the band responsible for hits like Live It Up and Who Turned Out the Lights is like that one quirky friend who always knows how to liven up a dull party. Live It Up is their musical coach, shouting from the sidelines, "Hey, champ! Grab life by the horns, savor the present, and don't let time vanish like socks in the laundry black hole! It's your cue to break out of the daily grind, hug change like it's a long-lost relative, and give a hearty high-five to every opportunity that knocks on your door."
Now, Who Turned Out the Lights is the band's way of taking you on a journey through a carnival of self-doubt. It's like watching a stand-up comedian who's also their own harshest critic and playing a game of cosmic hide-and-seek in search of life's instruction manual.
With their unique and thought-provoking music, we can only hope that this return isn't just a one-time phenomenon but maybe, just maybe, Scream Out Loud might come back.....screaming!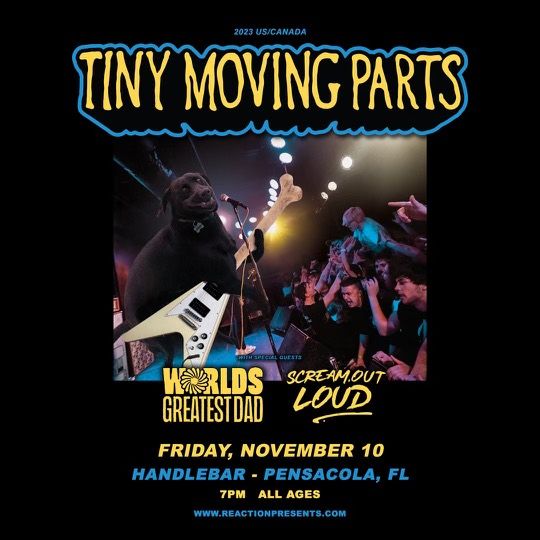 So, whether you're a die-hard fan of emo, screamo, or simply curious about discovering new sounds, November 10th at The Handlebar is an event you won't want to miss. Join Tiny Moving Parts, Worlds Greatest Dad, and Scream Out Loud for an unforgettable night of music that'll make your emotions soar and your head bang reflexes kick into high gear. Grab your tickets, bring your friends, and get ready to rock your heart out!