Harrison Avenue Plays The Sandshaker - 3/2/23
Our local man-about-town Rich "Beatman" NaVarre reports from the Sandshaker Lounge, catching local band Harrison Avenue's show from Pensacola Beach!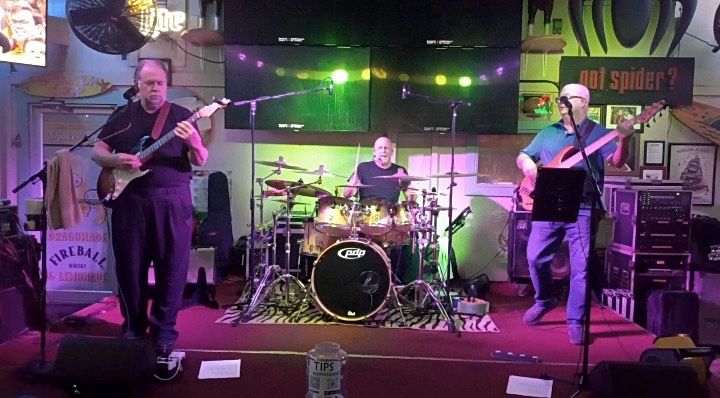 The night began a bit slow at The Sandshaker bar on Pensacola beach. As the first set started, a small crowd of about a dozen patrons took notice as HARRISON AVENUE took the stage!
 It was a calm, warm Thursday evening, stars were making themselves known in a clear Pensacola sky. As I approached the venue, I could make out the stage through the front door of The Sandshaker bar. After entering the outdoor stage area, I took note of the sophisticated sound array, recently purchased by the band and used for the very first time on this auspicious evening. Though small in stature, it lacked nothing for power output and clarity...something us musicians really can appreciate.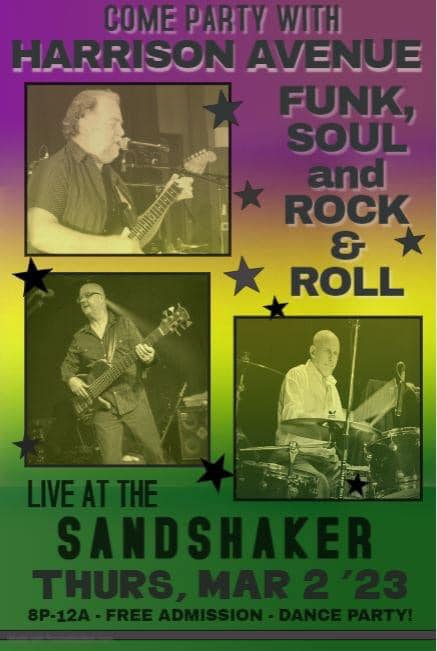 After making my announcements about Scene Pensacola, and passing out a few stickers, HARRISON AVENUE began with their unique arrangement of "Midnight Train". Right out of the gate, I could tell it was going to be a good night. They played flawlessly and captured everyone's immediate attention. After stabbing the ending, the band played on with "Grits Aint Groceries". All time hit songs arranged by the band carried them well into set one such as, "Fire On The Bayou", "Love and Happiness", "Mary Had A Little Lamb" and a smokin' rendition of the classic Meters tune, "Cissy Strut"! I particularly like the Strut because of the funky, off beat syncopation Jim George brings to this musical table. If you haven't had the opportunity to witness one of Jim's stellar drum solos, or hear him sing while rarely missing a note playing ungodly patterns and insane double footed fills, your missing something quite special indeed! I get a drum lesson every time I see him play.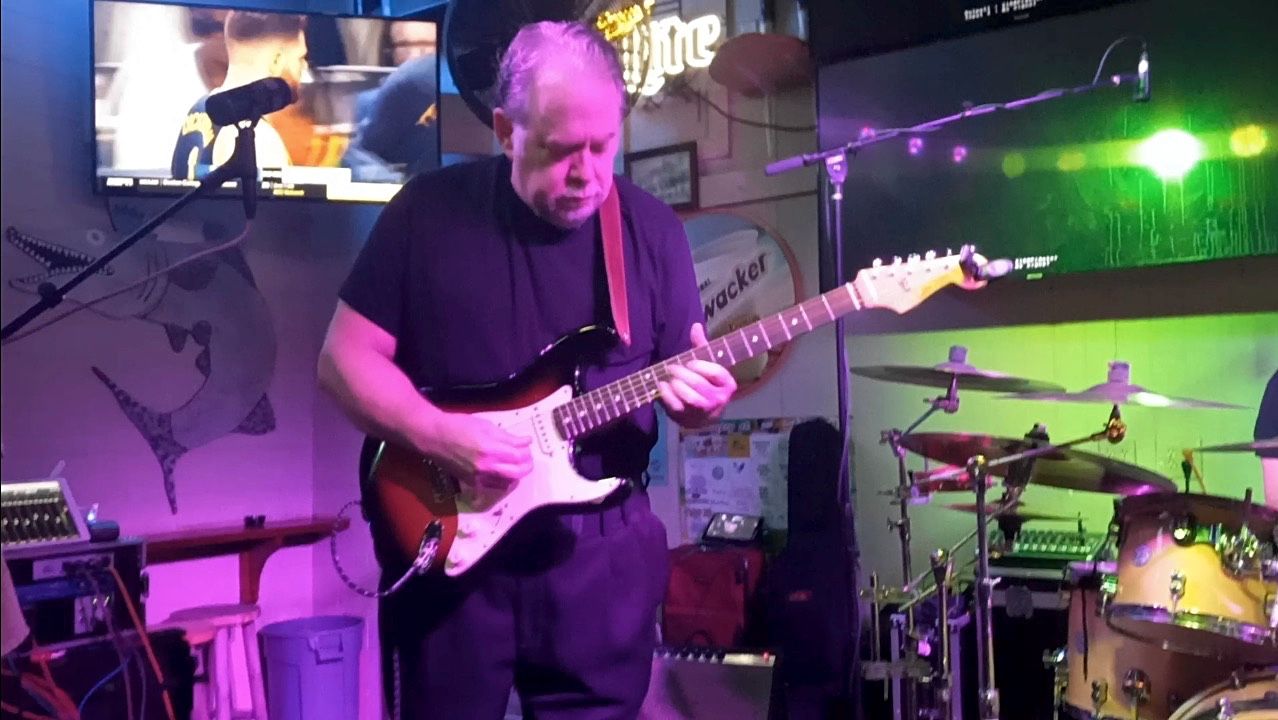 Gene Labbe' the lead man demonstrated that his years of sweat and sacrifice pay off on stage. His runs, licks and riffs prove he knows his instrument...intimately! His shredding leads, and the way he plays off of (and with) Jim and Steve are a thing of beauty to watch. Gene's seasoned melodic voice fits well in every song he sings.  Mr. Steve Maples showed he certainly knows what hes doing on the bass. Not only does he and Jim stay well in the pocket, Steve's riffs sent me to another dimension! How he can bounce around the stage, and still walk all over his axe, no one knows! No doubt these three consummate professionals produce such an entertaining evening. All three like to engage the audience in clever back and fourth banter which obviously draws you in till the very last note.
 By the middle of the first set, the crowd had grown from a handful of people to a nice lively and energetic group of party patrons. Everyone was into the music...singing, dancing and filling the tip jar with lots of dead presidents! As I observed the crowd, I noticed a couple sitting behind me, really getting into the scene taking place on stage and in the venue. Between numbers, the gentleman asked me if this is what to expect in quality entertainment in Pensacola, pre-season on a Thursday night? I replied.."Of course, its what we do!"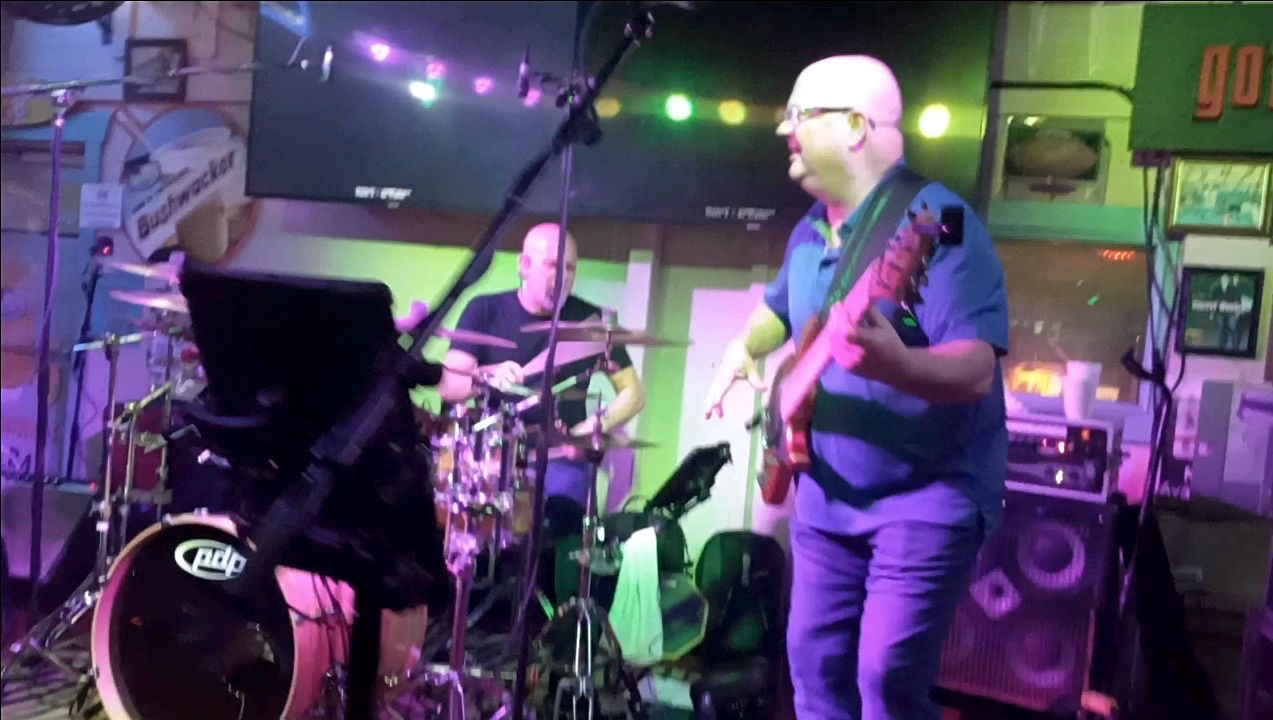 As always, The Sandshaker exhibited their standard/non-standard level of excellent service and hospitality serving drinks with a smile while keeping the unique environs clean, warm and welcoming.
🤘
So...tell us what you think! What would YOU like to see in a band review? I welcome your input and ideas. How can we make SCENE PENSACOLA the very best place for all things music in Pensacola and beyond? Where should I go next? What bands do you wish to hear about...your input is important and helps us improve the content so we may provide the highest quality reviews and announcements...we need your support! Tell everybody! Lets go VIRAL!
This your man with the bands and the beat...Rich "Beatman" NaVarre signing off till next we meet! SOLID!
Harrison Avenue are:
Steve Maples - Bass, vocals
Jim George - Drums, vocals
Gene Labbé - Guitar, vocals
Check out the bands official website at https://www.harrisonavenue.net
🗣️ Have you caught a Harrison Avenue show before?  Let us know what you thought in the comments below!